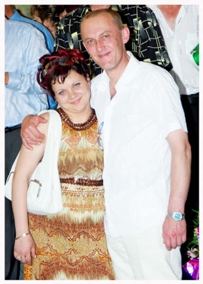 We got acquainted through the correspondence on Anastasiaweb site in the middle of October 2005. Eddie was writing letters to me almost every day and his letters were really very interesting. He was writing me about everything, what he was doing during the day, at work, at home, weekends, every small detail of his life there. In November he wrote that would like to come to Ukraine and I was really glad about it but at the same time worried a lot whether we would like each other and about the way we would talk, because I knew only how to say ďHelloĒ in English :-) His Russian was almost the same; he knew how to say ďYesĒ and ďCarĒ. :-) After his decision to come to Ukraine I decided to attend English language courses. I didnít have much time but I had to learn at least something. Time was passing by quickly. He bought tickets on the 28th of December. I decided to take a vacation for a week at work because I knew we would have to get to know each other better. On the day of his arrival I almost didnít sleep and in the morning went to the beauty salon to make a hair do, manicure and etc, to look good :-) He also worried a lot and was calling me over the phone from the airport many times. He worried if I was going to be at the airport or no. It was his first time in Ukraine and he was coming there all alone and there was only me he knew. At the airport time was passing by very slowly and I was really nervous and when they announced that the plane had finally landed I started to panic. But the actual meeting went in a very nice and calm way. Both of us were like frozen and couldnít say a word. We went to his apartment, left the luggage and went to the restaurant to have a dinner. So the first day was over. During the first days we didnít talk much. But during the last days we couldnít stop talking, using dictionaries, signs and body language, drawing pictures and seems that we created our own language and no one could understand us but we :-) Eddie liked Ukraine and Odessa, we walked a lot every day, notwithstanding cold weather and we celebrated the New Yearís Day together. And when the clock stroke 12 we made a wish (thatís according Ukrainian traditions), but what we thought we didnít tell each other till now, but I guess our wishes were similar :-)
Time passed by very quickly and it was time to say good bye. That was really very difficult and painful; it seemed that we knew each other for so long and now had to get apart. Eddie said that would come back in March. I wished this very badly but didnít know what would happen when he comes back home, maybe he didnít like me or didnít want to comeÖ.I didnít know and worried a lot. When he came back home to England everything was as usual, work, home, weekends, lovely letters, phone calls and text messages every day. After a week he said that had bought tickets for the 10th of February. That was my birthday. I was really happy. Also I decided that I would introduce him my parents. It happened that because of bad weather his flight was delayed for one day. But the next day he came we went to my parents, reserved a table at a restaurant, and celebrated my birthday. The party went great, he liked my family a lot and they liked him :-) On St. Valentines Day we went to the restaurant and he proposed to me! :-) He proposed to me in the Russian language (with some mistakes but it made it even more fantastic) and gave me a ring. I thought it was a dream and I was in a fairy tale :-) I felt the happiest person on the Earth. And of course I accepted. So we decided that I would go to England and we would get together.
In February we went to the Consulate but I my visa was turned down, because it turned out that we didnít have all the documents. Of course we were disappointed but we relaxed and knew that we just have to wait. After that Eddie was coming to Odessa every month. For the 9 month he has been to Odessa 5 times. In October I went to the British Consulate again. Eddie didnít have a chance to come, so I took my sister with me. I was very nervous. Then I was called for the interview. After that I had to wait again. After three hours I thought that I would go crazy. But then they called my name and said that I had got visa :-) I was very happy and gave a call to Eddie.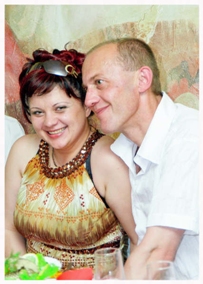 After that we decided that I would come to his place on Christmas. We bought tickets for the 21st of December. I worried a lot. It was really hard to leave my family, because I understood that we would not see each other soon. But most of all I worried whether I would like it there in England, if his family and kids would accept me and like, if I find common language with them. But anyway I wanted to go and was sure in my decision. Five days before my departure I quit work and started to buy gifts and pack things. For my family it was also very hard to see me leaving. The flight was hard and long. Because of bad weather I stayed the whole day in Warsaw, but let Eddie know that the flight had been delayed. The atmosphere was hard; I worried a lot and felt somehow lonely. But when we had landed in London I felt much better and happier. I filled in the immigration card, took the luggage and went outside. In the exit at the very middle I saw Eddie waiting for me and he was shining with happiness. :-) From the airport we went home.
When we got home Eddie cooked a festive dinner, opened the bottle of champagne and we celebrated my arrival. :-)
On the second day we went hunting. That was all very new and unusual for me, his friends were always trying to ask me something, but I had a feeling that I understand simply nothing in English and canít talk at all. Everybody talked very quickly, using slang words and out of 10 words I was able to understand 1 or nothing at all :-)
In two days we went to the restaurant to celebrate Christmas and Eddie introduced me to his family. But the meeting went great and I loved his parents and as I see now they liked me also :-)
The whole next week Eddie was showing me around, teaching me the names of the streets, shops. He also taught me the difference in height, weight, kilos and liters and money. That was all new to me. We traveled and walked a lot; saw different castles, nature, have been to all restaurants. Eddie tried to show me everything and make me like it and feel at home.
Then I met his kids and for the first time I was scared to talk to them because I thought they would not understand me but then it went on well. We are in great relationship with them and I like them a lot. So I started to get used to my new life but it was really difficult because quite often I wanted to talk to some one in Russian and of course missed my family. But Eddie took very good care of me and was a real support.
Then I started to get ready to our wedding. We decided to get together on the 31st of March because my visa was almost over and after the wedding we had to go through another interview. By that time my English was much better :-) We decided not to make a huge wedding and it was just a nice evening with closest people, family members, and total 11 people. The ceremony was quick but very nice and so I became Mrs. Boyes and we celebrated the wedding and our happiness :-)
Then we started to make other documents, so I could live and work there officially. Some time later we went for a vacation to Ukraine and spent two weeks there, but in one week I already started to miss England, our home, our dog and family :-)
Well thatís my story. :-) Iím really glad that I was suggested going to the dating agency and Anastasiaweb site. Thanks to them I met Eddie, took a risk of leaving everything and moving to another country and I donít regret about anything. We really love each other and found our happiness. Itís so great to be loved and needed! Eddie is a very good husband and we have a great family :-)
I wish all other people using this site to not lose faith in love and happiness, donít get afraid to take risks and find theirs second halves.
Presented by JPDLove