My name is Anna. Iím 35 years old. Iím divorced and have a beautiful daughter Sofia. I would like to tell you my love story.
In spring I decided to join the dating site. Of course I had doubts and fears. At first all this seemed unreal for me. I didn't feel I could meet my love through the Internet. During my first week on the website I got lots of letters. At first I was very glad. It flattered me that so many men wanted to start correspondence with me. But after several letters I realized we didnít really have much in common. Then I got a letter from an Italian man whose name was Emanuele. At first I didnít pay much attention to him. I had another correspondence with a man from the USA and I though we could match. But for some reason I decided to reply Emanueleís letter. There was even no photo in his profile. We started corresponding and then he sent me his photo. Well, to tell the truth I wasnít impressed. He was wearing a cap on the photo and I didnít find him handsome. He said we should meet. Well, frankly speaking I didnít expect he would come from Italy to Ukraine just to meet me. I was shocked when his interpreter called me and said he was in Kiev and would come to Kharkov next morning. He did really come with the interpreter. It was so strange.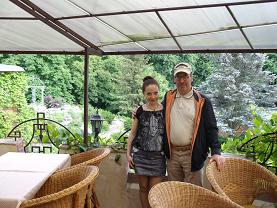 He didn't know Russian and I didnít know a word in Italian then. We went to the restaurant. We talked. He didnít look like a Ukrainian man and that was unusual for me. He was so different. The next day we met again. We spent four days together and he had to go back to Italy. Well, I canít say that I fell in love with Emanuele after that first meeting. We continued to write letters to each other. I sent him photos of me and Sofia. I wrote to him about myex-husband, my life and my family. He also told me about his life. I sent him photos and so did he. Soon we decided to meet again. I wanted to introduce him to my daughter Sofia. I worried a lot. How wouldl a little girl react to this? Sofia was not in touch with her father. I was so anxious. Emanuele came with his interpreter again. To make the story short we spent a wonderful week together. We went to the local park, to several concerts, we played games. When we went to railway station to see Emanuele off we both cried. Sofia ran after the train. I remember this moment perfectly well even now. He left and I felt how much I missed him. I bought an Italian dictionary and wrote him an SMS. I wrote that I missed him and Sofia missed him too. Two weeks after that he came again. That time we planed our meeting in Kiev. Emanuele rent a flat in the city center and we spent a week there. I was so glad to have him in my life. Frankly speaking I didn't expect there could be a man who could enter my and Sofiaís lives and change them. Emanuele often says weíve changed his life too. We wanted to organize our next meeting in Italy in his town but I got ill. I went to hospital and had a surgery. He called me every day. I had never felt such support and care in my life. I was grateful to him. Now I know that he will love me in good and bad.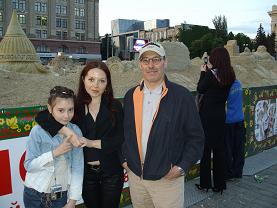 Well, we still continue our correspondence. Now we plan to meet in January. We've had to change our plans a little because I had a surgery and Emanuele doesnít want me to make a long trip. My family takes him as a family member now. Sofia loves him a lot. Iím learning Italian language. After that meeting in Ukraine we started to prepare the necessary documents for my and Sofiaís trip to Italy. I know that he is the man I want to be with. I feel he loves me and Sofia. Now I believe in miracles because my miracle happened in spring when Iíve received first letter from this wonderful man.
Best regards, Anna
Presented by Anastasia Affiliate "Paradise-Kharkov"