Anna lived in the most beautiful city of Russia - St. Petersburg. Since she was a kid, she enjoyed walking the granite embankments of Neva and admired the stone lions that face the river. She dreamed a lot: about her future, about happiness, and certainly about love. Just imagine: here she is, a pretty young girl, walking along the channels, hand in hand with someone who is very dear to her and talking nonchalantly about some trivia - how the sun is shining bright, or how beautiful the reflection of the church spire looks in the grayish blue water of the Neva river.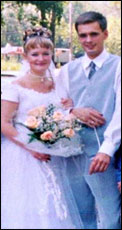 Her dream came true quite unexpectedly. He came from far away to take a walk with Anna in the spring city. Fred relates: "Even two years ago, I would have never thought that I would be walking with such a beautiful and extraordinary girl. I can't find adequate words to explain. In the beginning, Anna seemed to be a creature from another planet. She had a very poor knowledge of English, we could stay silent for hours, but her smile was so fascinating that I completely forgot about the silence. We gradually came to speak the same language, sometimes turning to gestures to convey what we wanted to express".

It is said that love, real love sounds the same in all languages of the world. Just listen to your heart, and the person you want to open up to will read everything in your eyes. This is just what happened to this couple.

Anna explains: "I met Fred through your agency. The most wonderful thing is that I did not have to communicate to a stranger for a long time in order to make a decision to meet him. It all happened last spring. I wrote two letters to Fred, he said that he was coming, that he wanted to see me, to lift me up and swirl me in the air on our first date. From the very first moment, communicating with him was very comfortable, I felt free from a boring and monotonous existence and my life started to make sense".

Anna felt like she was born anew, she flourished like a tender northern flower. There are things that give us strength to fight melancholy and apathy. After some time Fred made a declaration of love to Anna. "I wanted to tell Anna that I love her in some extraordinary way. Without knowing any Russian, I learned a poem of Pushkin dedicated to his beloved Anna Kern, who I think is some Russian poet as well. I recited it in Russian, and I saw the pleasure with which my lovely girl listened to my lame Russian. Then she put her hand on my shoulder, drew me close and kissed. I realized my love was mutual!"

On the American wedding of Anna and Fred, there were many relatives of the bride and the whole wedding was full of Russian traditions. Anna is sure Fred would be very interested to find out more about Russian customs and culture, as she herself had no fears entering a new and yet unknown life in a strange country.


Presented by Anastasia Affiliate "CrossRoads St.Pete"