My name is Dean Ferri; I am 32 years old successful businessman, a son, a father and a loyal friend. I have been previously married and have two wonderful boys, Devin, age 7 and Kody, 6. Besides running my own company for several years, I enjoy car racing, boating, snowmobiling, working out and most of all being a father. My boys share my interests and have a very close relationship.

However there was one thing missing from this wonderful life, a soul mate, life partner, and a best friend to share all my blessings with. I had dated women since my divorce but have not found that special person who also shares my family values, interests and goals in life. I decided to try an alternative method of meeting a potential mate, which led me to AnastasiaDate. I thoroughly researched this company, checked their references and discussed it with my parents before embarking on what has turned out to be most incredible journey of my life. I met and fell in love with my lovely Eteri.

On October 1, 2003 our group of AnastasiaDate left New York City, bound for Russia, I was the youngest and the only Canadian of our group of seventeen other gentlemen, who were also looking for love. The schedule included several social events, which would allow us to meet and greet potential mates.

At these events we had the opportunity to introduce ourselves to many wonderful women, but only one stood above the crowd. Across the room I saw Eteri, a tall, blonde, with smokey blue eyes that drew me to her. That afternoon was filled with conversation, dancing, and eventually a dinner date. Eteri asked if she could bring her friend Anastasia along for dinner, which I agreed to.

I had hoped to spend a quiet evening with Eteri to get to know her better, but I realized that she to, must have been nervous and we really didn't know each other well at that point, so I asked another gentleman, Bart to double date. We met at the Chinese Garden Mezdunarodnaya Hotel for dinner. The conversation was flowing and I knew I wanted to pursue this relationship further. We danced the night away and we all finished the evening back at Bart's at the hotel for a nightcap. When Eteri and Anastasia left that evening, Eteri and I agreed to see each other the next day.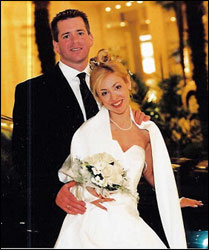 Our second date was everything I hoped it would be, we talked about everything, our hope, dreams and goals. We shared our past, exchanged picture and stories. Eteri has taken and enjoys belly dancing classes, which she quite good at. We hit the dance floor for an enjoyable afternoon.

We parted to dress for dinner, and after meeting the group in the lobby of Ukraine Motel we proceeded to the American Bar & Grill for a fantastic dinner. After dinner, Eteri, Anastasia and I took in the Russian Night life. The dance club was really entertaining and we both relaxed and enjoyed the evening, which I admit was a bit late. The evening ended with a long and affectionate hug, I respected her and did not try to kiss her, and I knew all good things would come in time. I also wanted to let her know my intention were genuine, I was there to make a real love connection. I left her looking forward to the next day, for a bus excursion the tour was providing.

Unfortunately Eteri missed the bus, but I did have an interesting time sightseeing with the group. I did meet other women during this time, but I my thoughts always drifted back to Eteri. Eteri schedule would not permit her to join the group again. We did speak on the phone and I sent her a Tommy shirt, chocolates and my business card with a thank you note for the time we had spent together.

When I arrive home, there was an e-mail waiting for me from Eteri. She had sent pictures of the two of us on our dates. I immediately responded, and that started our email and ICQ chat relationship. The Internet allows a relationship develop quickly. The conversations are more intense and in-depth. I felt the walls coming down and I was very comfortable discussing really serious matters. This time apart gave us the opportunity to have an old-fashioned courtship, how ironic that the modern technology facilitated old fashion romance.

My parents were very supportive and encouraged me to follow my heart. I asked Eteri to come to Canada to visit and see how I lived. I was naive thinking that she enjoyed the same freedoms that I had known. Sadly she was not permitted to come. We continued our courtship and exchanged gifts from one another. I received Russian Music, a tie and she also thoughtfully sent my boys puzzles. I sent her Chocolates, bubble bath, and perfumed soaps. Eteri was becoming an important part of my life; I looked forward to talking with her each day. I knew I wanted to see her again. I tried to arrange a trip to coincide with the New Year, but my work schedule did not permit it and I had to postpone to February 6, 2004.

I left on February 6, 2004 and was reunited with Eteri on the 7th. I had Eteri rent us an apartment for my two-week stay, so we could have a private and more intimate place to further explore our relationship. Together we planned my two-week stay; she wanted me to meet her family and friends. We enjoyed the ballet, quiet dinners, and a bath house which was very relaxing. We had dinners with her friends and her family was very welcoming, they made me feel right at home. We had an amazing Valentine's date, which led us to realizing that we had fallen in love with each other. We did not want to be apart. I asked her be together me, and she accepted. It truly was a night to remember!!

Now that the race was on we had very little time to plan our wedding. I wanted her to have it all. The dress, the ceremony, the reception, photographers, limo's, I wanted everyone to know how much in love we were. She was an angel, she took my breath away. Eteri was what I had been looking for, she filled the empty space in my heart and I in hers. On February 18, 2004 we became husband and love companion. All of Eteri's friends and family were there; the reception was amazing, great food, Champaign, and heart felted speeches from her family welcoming me into their lives. This felt and feels so right, not since the birth of my children have I been so happy. We knew that our honeymoon would be delayed because the Canadian Immigration laws would not permit her immediate entry into the Canada. We spent the last two days together alone, embracing our love and exciting companionship. We talked about visiting my parents in Florida and taking a cruise for a honeymoon. We discussed how to budget our money so that I would be able to visit every six weeks and still hire an attorney to assist us with her immigration, and afford the honeymoon.

There is no question we have had a world wind romance. Both of us went into this open, honest, and with genuine intentions. We would not have married if there were a slight doubt about our feelings. Our relationship is based on communication, trust and above all love. We look forward to the day we are reunited and can start our life together in Canada. I want to introduce my bride to my family and friends and I want my children to meet their new step-mom. Call it kismet, fate, what ever you like; we both know that we have found a soul mate in each other. We believe in the fairy tale.... AND WE WILL LIVE HAPPLILY EVER AFTER...

Presented by Anastasia Affiliate " Vesta Fortuna"