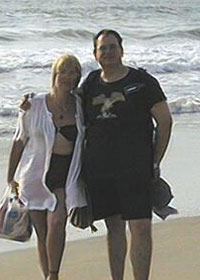 Elena came to our agency in August 2000. She was a pretty woman with a small child. Her daughter was about three years old. All in all Elena was in our agency for about one year and a half. Michael was about her age and he found her interesting and wrote her the first letter. she replied at once. They really had a very interesting correspondence that lasted not so long as almost in the beginning they decided to meet each other. He came to Russia and the first meeting took place here, after this meeting they traveled a lot all over the world. They went to Thailand, India and other places. Elena had brought so many wonderful photos from each their trip. Michael came to see Elena's family, her mother and sister. When Michael made her a proposal, Elena agreed and started preparing her guest visa, but unfortunately she didn't get it. He tried several times but nothing. Finally she applied for the fiancee visa. It took nine months to get the visa. As for Michael, he has his own business that his father gave him, moreover he works with computers too.
When Elena moved to Michael she wrote many letters to her family and us.
Since that time she thinks that she has the happiest family in the world.
Last summer she came to Novosibirsk to visit her mother and sister and she came to our agency. She really looks very happy that makes us feel that our work is worth doing.
Presented by Anastasia Affiliate "E-date Service"