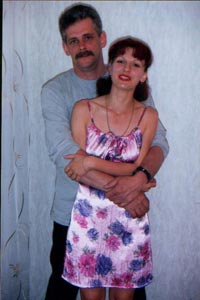 The most important reason for the boom in the romance industry is the high divorce rate for the people in their thirties and forties," says psychologist Dr Alan Drummond. They find themselves single once again, but have lost most of their single friends". This is the story about two single people who have met each other via Anastasia".

Elena, a glamorous 30-years-old Ukrainian lady from Nikolaev came to the agency in February 2004. She said to herself that being lonely and unhappy was not her way. Moreover, finding a loving husband and a good father for her 3,5 years old son Artyom was her prime concern. She had correspondence with several men but it seemed that none of them had serious intentions.

Elena and Michael started their correspondence in December 2004. Since that moment they wrote to each other and learned each other better. They understood that the next step would be their personal meeting.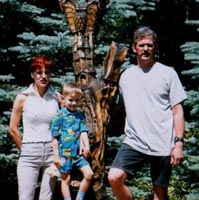 At the end of March Michael planned to visit Elena in Nikolaev, but he had to put aside his arrival because of his mother's death. He put off the date of his arrival on June.

On June, Elena met him at the airport, in Odessa. She granted him a comfortable dwelling in the period of his stay here. While staying at her place Michael made acquaintance of her son Artem and her mother. I want more than anything else for my daughter to be happy," says Elena's mother. I find Michael very attentive and reliable man. The happiness of my daughter and my grandson is very important for me. Elena, Artyom and Michael spent a great time in Nikolaev together. They visited the local Zoo, Children's entertaining center and other places. Michael presented Artem a bicycle. The boy was happy to receive the present of his dream. During this meeting Elena and Michael saw that they got on well, and agreed on most things.

During his visit Michael proposed Elena be together he and he presented her a ring. Elena accepted his offer. Now they continue to associate through the Internet. They prepare papers for Elena's visa. They cannot wait to meet once again and link their fates forever. They miss each other very much and write letters just every day. They plan be together after Elenas coming to the USA.



Presented by "Jasmin-Nikolaev"