This is a story about how two wonderful people, Michael from Germany and Galina from Ukraine met. Galina was the first one to write a letter. Michael read it and decided to meet her as he was in Odessa at that time. During their first meeting they understood they felt very comfortable with each other, they had been looking for such intelligent, calm and sincere communication. It is a miracle that such people who are so alike found each other and did not miss their chance. They found out their had similar musical tastes, both preferred long evening walks on the quay to watching TV, dreamed to have a sincere and a faithful life-partner.
"Nobody has ever taken care of me as Michael does" – says Galina. "I have a strange feeling of tenderness when I think about him. It is completely inexplicable, it's like magic". "There hasn't been such a woman in my life yet. She is smart, kind and caring. I can't believe that this has happened to me. Having met each other seams to be a dream, a magical dream" – tell us Michael. "I have written a huge number of letters, but I have never been absolutely sure I would be able to fall in love, because love is a gift from Heaven. I have just been looking for happiness and was astonished when it finally came over me. I didn't know what to do. All my life was about to change and I was extremely happy about that".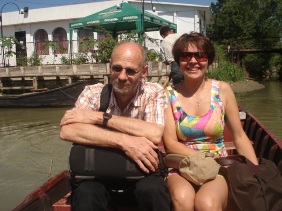 "I had spent 17 years alone. I had been bringing up my children and didn't hope to find my personal happiness. And the suddenly there it was! I'm grateful to all those people who helped us to meet. You make people happy and not everybody can be proud of working as a magician" – says Galina and tears of joy appear on her eyes.
They spent a few days together and didn't part for a minute. Then a wonderful romantic tour to a city on the water, the Ukrainian Venice, followed. They went boating, tasted fish soup and wine made of grapes that grow only in that area, approached flocks of birds. That place is situated in a reserved area, and hundreds of different birds – swans, pelicans, herons, storks, sea-gulls flushed from the water when the happy couple came too near to capture pictures.
And then a wonderful evening and a romantic dinner in a small restaurant on the beach followed. Michael told the representative of the agency he loved Galina and wanted be together her. When Galina joined Michael at the table we told her he wanted to tell her something utterly important. Michael proposed Galina be together him. In a confused and embarrassed way he asked her to become his love companion. Galina cried from happiness – she closed her face with hands and couldn't believe in this magic, wonderful magic of love.
We lifted glasses with local wine to the couple and wished them a long and happy life together. We wish the same to all those who are just looking for their love and will definitely meet it at our site and Anastasia agency.
In September Galina is going to visit Michael in Germany and we all hope that they will celebrate Christmas together, as a whole happy family.
Presented by Island of love