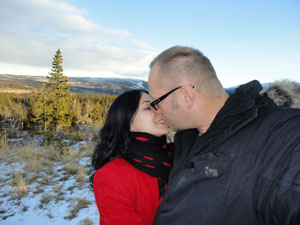 Geir: I just want to thank you for good service and a very happy ending! I found my Irina and feel safe that she is my life love. Thanks to Anastasiadate.com site and to the agency as well. I felt safe and in good hands. Without your personal touch Irina and I would never have met each other. I feel that she is the woman of my dreams. We had correspondence and her letters were so gentle and sweet, she has sent me her pictures and pictures of her family. And I decided to take a plane to Kiev after some time of correspondence. I was not mistaken, she is so wise, calm and feminine. Our hearts started to beat faster…and after some days together we understood that we had that special sparkle. We continued our communication and saw each other online every day, then I invited her to Norway. Our story just begins and I can't express how happy I am with this special woman. We will delete our profiles from the site and plan our common future together. It is possible to meet love via the Internet, you have to listen to your heart! Thank you!!
Irina: Our meeting with Geir has happened only due to Anastasiadate.com, I even could not imagine that my life would change so fast and in the positive way. But now I know that dreams may come true)
I have met an incredible man and I totally sure that the happy future is waiting for us ahead. He is so responsible and tender with me. I trust him and I can trust my child to him. It tells a lot! I feel so happy with him, I have met his wonderful kids in Norway and we became friends with them. We have many plans for our common future and the main thing that we understand each other even without words.
We understand that we have to be mature and careful with our feelings, and we will keep them for long long time.
Presented by Client and Happy together