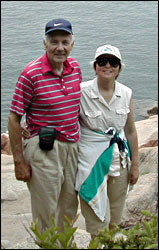 I have to confess that it was the "Anastasia" agency that brought me luck and happiness, after an endless long-term quest with the many agencies of Moscow. Maybe it was just serendipity, and maybe it was the popularity of the Russian-American "Anastasia" agency, gained by its stable work, that determined my life. One way or another, it was the "Anastasia" Web site where my future husband saw my photo. This is how our story began.

A person with serious intentions and sincere feelings could well be distinguished among many men, with whom the Russian women in search of an overseas husband have to communicate. Just a month after our correspondence started, I had a huge bouquet of roses and a bottle of champagne delivered to my apartment - right before New Year.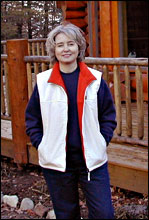 Then we met in Moscow - a week spent together, a rich cultural program, a diamond ring, a hard parting. All the time that we spent waiting for a visa to finally get together, he was taking care of me. He would send gifts, baskets of fruit and money almost every month. Not that he is rich; he is not, really, he is just a kind and a loving man.

While he was waiting for me to arrive, he began building a house for the two of us. After a sequence of difficulties and delays with getting the visa, in February 2003 I boarded a plane to the state of New Hampshire, where he lived. The house was being finished; it stood in the middle of a beautiful forest like a tower from a fairy-tale.

On the eve of my birthday we moved there. For me it was a fantastic present: waking up on the morning of my birthday in my new home. For several months after the construction workers left, we worked hard at our house, but this joint labor only united us.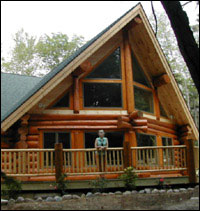 My husband fulfilled every promise he made before we got together. He bought me a car that I mastered during the nearest summer and fall; in summer we went on a road trip to the most beautiful spots of America. He did everything for me so that I would feel comfortable and confident. I established a good relationship with his grown-up children easily and quickly, and I feel he also deserves the credit for it.

After a year of living in America, I grew to love the country and the place where we lived. The nature and the climate here are very similar to Russia, but it is generally cleaner and there are more sunny days. The people are very friendly and cordial.

In a year, my husband George became the dearest and the closest person for me. He is intelligent and kind; he knows a lot and has a lot of skills, too. I have never seen him in a bad mood. As I improve my English, I find it more and more interesting to communicate with him. We have a lot in common, which makes us very happy. Our lives are dedicated to each other. Each is trying to make the other happy - this is what every woman is dreaming of.

With respect and deep gratitude,


Svetlana G. Bolles

Presented by Anastasia Affiliate " VYBOR International Dating Club "