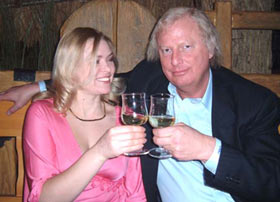 We corresponded three months, my heart engaged Tatiana from the first moment, sharing heart, spirit, values, and dreams of finding one special life partner for true love and commitment. We saw each other in pictures, and were both pleased.

With courage, I traveled to Kiev, Tatiana and Agency translator, Alla, now dear friend, met me at the airport, Tatiana so loved from the first moment, she took my hand, I shall never let go of hers and never will. Tatiana has such beauty, inside and out, and the brightest smile. We spent a week together, and I know complete love and commitment happened gradually but quickly over a few days. There soon became no question.

After two days, I said what better thing I could do than to ask Tatiana to be my love companion and to have permission to adopt a beautiful 6 year old princess, as my own daughter. Alla told me all was well and go ask. Tatiana said that is a serious offer. I said I am a serious man; you are a serious woman, so let us begin. She hugged me and we began.

We are working on Fiance VISA with lawyers, Tatiana and Arina are studying English, and soon we will be the happiest little family. Only Anastasia could make this possible, I am sure, I came to Ukraine alone and was guided and protected each moment, with language and culture, and all else.


Presented by Anastasia Affiliate "Ladies' Club "