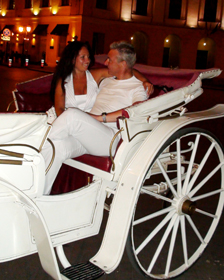 I want to share with you one wonderful story which happened in my life. Due to the site Anastasia I met a good looking man. His name is John. We communicated with him for some time on the site and then he came to visit me in Ukraine. I was so happy to see him. I went to the airport to meet him. When John got out of the plane it seemed to me that my heart started beating very fast and there were some butterflies in my stomach. We recognized each other and went together to the taxi. We were talking and smiling a lot. We had lots of things in common.
When I was with John my life was like a fairy tale. We were watching stars, running along the streets, holding hands, singing, swimming in the sea and telling lots of funny stories from our lives to each other. That was unbelievable! Now we are on a long distance again. We have some time to think about our future life. I hope we will make the right choice.
I want to thank Anastasia that the site gave me such an opportunity to get acquainted with this man.