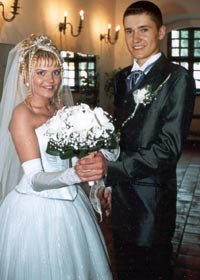 Do you believe in fate? Do not rush to answer 'no'. I was also one of those who didn't believe, but something has happend that changed my oppinion about fortune. My name is Kristina and I want to tell you what has happened a year ago. So, a year ago I was just a common girl who has come from a small town Jurbarkas to study in Vilnius, which is the capital of Lithuania. I was feeling so lonely as I left all my friends and family back home in Jurbarkas. There were times, especially dark and cold evenings, when I was thinking about quitting everything and going back to my loving family. However, days went by and I was feeling a little bit better. I even met one girl who was feeling lonely and knew nobody in this big city,she was just like me. We became very good friends soon. One day we were talking about what is the best way to make the acquaintance of new poeple as she confessed that she has joined the lonely heart agency. I was quite surprised as I knew how shy she was. Moreover, I was always quite reserved about such things as lonely heart agencies. How one can talk without looking into the other's eyes? I didn't think it was o good way to find a person whom you could call a friend or even fall in love. I told my friend what I was thinking about it but she just smiled and said that I should try it one day. You won't believe, but finally she has convinced me. So there I was sitting by the computer and trying to make a conversation. I was surprised how many fellows wanted to get to know me. However, only one guy caught my eye more than the others. From the very first moment I felt that he is being natural and he is just being himself. I didn't want to confess to my friend but I enjoyed it. I really did. His name was Michael. He lived in Orlando in Florida. At first, we were talking just about everyday things, telling each other about our families and our studies. There was no day that he wouldn't write me and ask how I was doing and if I was feeling okay. He was so understanding, sincere and frank. It seemed that he is the person I was looking for all those years. However, I was afraid to let him know about my feelings because we knew each other only for a few months. Maybe it was silly thing but I was afraid to scare him away. One day he sent me his photo. Even though, appearance for me wasn't the first criteria for choosing a person I was pleasantly surprised. His look was not less attractive than his inner side. I couldn't believe this was happening to me. Somewhere , far away from me, there was a man I was always dreaming about. Soon he started calling me. It was a nice surprise when I got his first call. Now I also knew how his voice sounded. Finally, I had a full picture of Michael and I liked it very much. I was feeling so close to him. We could talk for hours and hours. We found so many themes that we both agreed on. After four months of our acquaintance he told me that he is coming to visit me.I always had been impatient but now I was even more than ever before. I couldn't believe that I will see him soon. And so after two weeks he was here. My Michael finally was here. When I saw him I couldn't stop smiling. He looked much better than in the photo. I was so excited that now I will be able to know him better because in the reality even well-known things might seem a little bit different.
He stayed in Lithuania only for three days but that was the best weekend I have ever had. I showed him our capital and all places of interest that I could only think of. He was amazed how beautiful it is here. In the evening I took him to my favorite restaurant. We had a romantic supper by the candles. We were talking and laughing all the time. There was no minute of silence between us. However, I think even the silence would had been pleasant to us. I was fascinated by his playful character as I myself sometimes was like that. It seemed like two parts of a broken heart found each other. On the second day I took him to my home town. I introduced him to my parents and a younger sister. Although my parents weren't very fluent in English they found what to talk about. They were fascinated how intelligent and polite he was. Relation between us was more and more close. However, he had to leave and go back to Florida. Those three days ran by so quickly but we were full of exciting and memorable moments. Before going on plane he promised me that he will come back after a few months or maybe he will send me a ticket so that I could come to visit him. I was already waiting for those few months to pass by. However, after a month Michael made me the biggest surprise. Michael called me and said that he is in Vilnius airport. I could not believe this. In twenty minutes I was already in the airport.Michael was standing with a big bouquet of red roses. He proposed to me. It took me less than minute to answer to his question if I will get together him. With tears in my eyes and happiness in my heart I said 'yes'. Thus, we arranged our wedding first here in Lithuania and when in Orlando where all of his family and relatives live. It was a happiest day of my life.
When I think back, I remember how distrustful I was about lonely heart agencies. I never thought that it is such a good way to find a good friend,not to talk about finding a true love. To tell the truth, I wasn't expecting for an ending like this even when I found Michael. However, I am so happy now. We both are very happy and grateful for the fortune.
Presented by Anastasia Affiliate "RYTMETYS"