My name is Marina, I am 33, and now I live in Belgium. I came from Russia, from a Siberian city called Omsk.

My destiny was like that of most Russian women: I graduated from college, worked as a psychologist with a very small salary, then I got divorced, and started the endless search for my "other half". I had no kids from the firstas it was very brief.

Russia probably does not need young, intelligent and pretty women, especially those approaching 30 and older. When I nearly gave up my search, one acquaintance advised me to place my ad in the Internet to meet foreign men and she recommended a girl, who had her own agency for correspondence with foreigners. She was approached by girls who had no computers at home.

Of course, I did not have one either, which was one reason for the difficulty I had with corresponding. I was 29 when I started writing letters, and I got a lot of responses. I had a meeting with a Swedish guy, but there was no chemistry between us, plus my English was very scarce.

The experience taught me a good lesson - I decided to put a sound effort into learning English. I took evening courses, like everyone else - the school knowledge turned out to be nothing when I faced the real challenge of communicating in the language. Independent studies were still less than enough.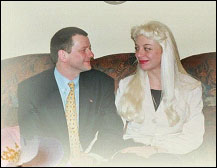 One day this girl, through whom I corresponded with people, said that she had the address of a Belgian guy. He had dated a Russian girl from our city, but she eventually got together to a Russian. So if I wanted I could write to him, she said. In fact, this was not the first time she mentioned this opportunity, but I was too carried away with my correspondence with an American, so I was infinitely postponing the Belgian.

I sent him an email and attached six photos, and got a reply. As soon as he got my third letter, he offered to meet in St. Petersburg. It was the end of October 2000, and the meeting was scheduled to the end of December because he had a Christmas vacation.

On the 24th of December, the Catholic Christmas Eve, I came to meet him. He sent even more money to cover my travel expenses than I needed. I was impressed by his very attitude: he met me in the airport, having come to St. Petersburg a day earlier. His name was Luc. He is a bit taller than me, very slender, but quite nice-looking. Luc is 7 years older than me, at the time he was 39, and I was 31.

He gave me several presents - inexpensive, but very nice; I was very surprised to find that his sister had also given him a present for me. One more thing he gave me was a pocket translating machine, which has also helped us to communicate, though I encountered almost no problems after my courses.

We spent 5 days in St. Petersburg and visited almost all the tourist attractions. And then Luk asked me to visit Belgium. This made me extremely happy, especially taking into account the fact that I liked Luk a lot. Even then, I decided that he was very good for me, we shared similar traits of character and ways of thinking, and what was most important - he was kind and sympathetic to me.

In May 2001 I visited Belgium. I have never seen anything that beautiful, with such a high living standard, in my whole life. Although Luc's parents and Luc himself are not rich (he is just a factory worker), they and their friends can indeed afford a lot.

Every day we went to a different Belgian city. We even visited Paris and stayed in a hotel there for a night; there was also Amsterdam. I was in a state of complete awe because of my ten-day stay there, with my Luc. He opened my eyes so that I could see the world.


Luc's parents and his sister were really nice and friendly to me. After this meeting in Belgium our relationship became even stronger. In August he came to Omsk to meet my parents - and he asked them for my hand.

I also think that a positive influence in our relationship was that we were both disappointed in our previous encounters: his meeting with the girl from my city and my meeting with the Swedish guy. It got us together and attached more value to our relationship, because we realized that while another people do not need us, we need each other.

We filed a fiancée visa, and when it was almost open and it was made possible for me to come to Belgium in another two weeks, Luk couldn't wait anymore and again came to Omsk on Christmas Eve. We registered our exciting companionship on the 1st of February 2002 in Belgium, and when my parents came to visit me, we got together in an Orthodox church.

I find it fascinating that my birthday, July the 21st, coincides with the day the creation of Belgium is celebrated. It is a national holiday and the whole country has a great time with festivals and salutes. It is like I was born for Belgium and my beloved Luk.

All in all, I was disappointed in life and I lost my faith in love - and then I found love and happiness with a worthy partner. Now I could say that my day has come.

Presented by Anastasia Affiliate " Eva "(Omsk)