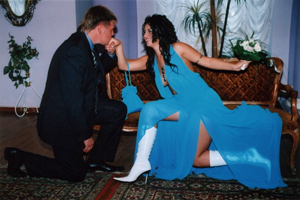 Sometimes randomness plays an important role in our life. A small accident can become a destiny and can sharply change your life. My story began from friends advice. This advice was to locate my profile on the site. Using my own experience I understood that Russian women who are oriented to the family are more loyal than women in my country. My mother is from Ukraine. There were a lot of letters but nobody could keep me. So my friend and I decided to come to Ukraine. He came for meeting with girlfriend but I wanted to observe the motherland of my mother. An agency organized my friends meeting. I saw a woman in the agency who impressed from the first sight It was my Marina I felt the she was ideal for me

Marina is a very good hairdresser and a beautiful woman. She made a hairdress for the women from agency when they were going to meet with men. She tried to do them beautiful and impressive. Our sight met. And I began to thing about her since that minute. I thought about her constantly. I asked an agency for help with acquaintance. They did it with pleasure. I was very happy. I didnt have any problems with conversation because I was taught Russian from childhood. We met, walked and traveled through Ukraine. I had a felling of constant leaving in this place. Agency helped Marina with letters. We said good morning to each other every morning. I visited her often. We even couldnt leave without each other. And than I took her to Germany. During the time the documents were being prepared I made a contact of my firm with Ukrainian colleagues to have an opportunity to visit Ukraine often because her mother left there. And so the day of exciting companionship came. Marina is eccentrive and original woman. I was impressed by exciting companionship dress. I was exited!

We will have a child soon. My mother is very happy too and it is very important for us. I would like to thank the agency for their help, for their difficult and noble work. The work which makes people happy. And I would like to thank my friend who gave me an advice to use the agency. I wish all to find such a destiny gift!



Presented by "NAIRA"