I met my husband Donald Paski in February 2001, and in some 15 days after the first letter we were discussing the possibility of exciting companionship. I liked Donald at once and our relationship hasnt changed since our first meeting. He is a very attentive, serious and decent man. A man who will treat you in a normal way from the very first time, from the very first meeting. A man of this is bound to take care of you ever since.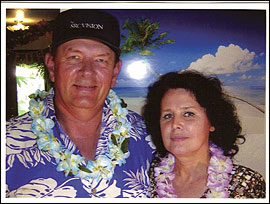 My husband loves me and my children. My relationship with his kids is also good in fact, not only with his kids, but also with his first the mother of his children. We are almost like two sisters. She has a husband and we often visit each other. We spend most holidays together. My good relationship with her made it possible for the whole of his family to become closer.

In April 2002 I came to America. It was unbelievably beautiful from the plane, especially at night. One really cannot find words that are good enough to describe it; you just have to see for yourself. The big cities here are very beautiful.

We live in the state of Washington, our city Moses Lake is not very large, most houses have one or two stories, which is really enough because all of them are private. Multistory blocks in the cities are just offices. Every state is beautiful in its own way, ours, for example, is very green as it is situated on the North of America, and the weather is similar to Ukraine. In summer its warm, and the winter is warmer than the Ukrainian one, so weather shifts are easy to endure. The Southern states are very hot and humid. I prefer my state, one can always to a warm place for a vacation.

Every person in America can work, there is no problem with that. Everything depends on how well you know the language. This is what your salary depends on, so as soon as you arrive to the USA and get you had better start learning the language at once or in a short while. Do not put it off for a long while; do not lose your time. This is just my advice to everyone. We are very happy here together. I wish happiness and mutual understanding to all looking for a partner abroad.

Nadezhda


Presented by Anastasia Affiliate "MVM"