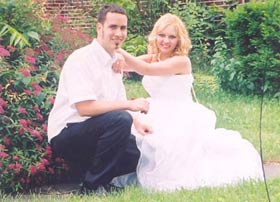 They got acquainted on a party. Then they spent some days together and understood that they are created for each other. Natalia is 22 years old, Jerry 25 years old. Soon they fall in love. Thats why as soon as Jerry went to America, he began preparing documents.
All that time they kept corresponding through the agency. Their correspondence lasted for 4 months. At the end of April of 2004 Natalia got visa and left for America. The wedding took place on 14th of June. Now they are very happy. Natalia is very grateful to all of us for letting her find her love. She sent us a lot of photos of their wedding.
Presented by Anastasia Affiliate "Bridge of Love"