My name is Tania. My love story began three years ago.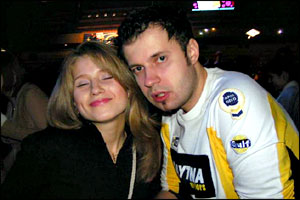 I used to live in the wonderful city of Saint Petersburg. I often liked to go for a walk and to sit in little cafes. I liked to look at happy people who sat at the tables with their lovers, families and children. It was pleasant to see such happy people - I didn't have a partner, but I have always wanted to meet him.

One winter day became happy for me too. As always I sat at a table in a small cafe with a cup of tea. I was pleasantly surprised to see a handsome man near my table. He was very serious and a little bit confused. Then he asked me a few questions. And I understood that he was looking for some dating site, or, more exactly, he was looking for a Russian lady.

He asked me to drink a cup of coffee with him, and I agreed because he seemed very lonely. It was also rather interesting for me to find out more about his search. We talked for a long time. Then we decided to go for a walk; he said he would go to the agency the next day. Again we talked a lot and found out a lot of interesting things about each other. So, we decided to meet the next day too. I agreed to show him my city.

Of course it wasn't the last day of our meetings. Mike spent two weeks here and we became really close to each other. I introduced him to my parents and friends. He also wanted to introduce me to his parents.

Then he came back to his native city. I was waiting for his letters and phone calls. We were happy to read letters from each other and to hear each others voices. A month later he invited me to visit his country. I have never been in the USA but I was glad to come to visit Mike. I like this country very much, he showed me a lot of beautiful and picturesque places. We became friends with his parents. They are very remarkable people!

Mike is also a very remarkable and nice person. I still can't understand why he didn't meet someone in the USA. In two months I came back to Russia, but I wanted to be with Mike. Every day I thought about him and he thought about me. We decided to be together forever and not to lose each other. He offered me to come to live in the USA. What could I do? I was happy to get his invitation because I wanted to be closer to him most of all!

Today I'm happy with Mike. I'm glad that I met him before he found another Russian girl. It was a really happy day for us. And we continue to enjoy life with each other. Now we are waiting for our first baby to arrive!


Presented by Anastasia Affiliate "Cross Roads St.Pete"