This is a love story of Tatiana and Paul.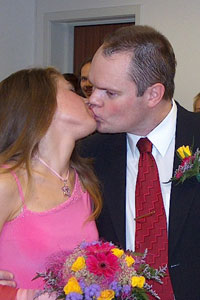 They started the correspondence in August 2003. At first Tatiana didnt believe in serious relations through Internet. But when she got sincere letters from Paul she also felt the same way towards Paul. She wrote letters full of frankness as if it came from her heart. The whole correspondence lasted for two months, and then they met. He didnt even have a photo in his profile, thats why when they had to meet; Tatiana asked him how she should recognize him. To this he answered that he would find her by himself. Paul came to Donetsk in October. Tatiana met him in the airport. The first meeting was wonderful. Their eyes met and they understood everything by the first glance.

Then Paul invited her to Norway. But when Tatianas visa was ready, he wrote to her that has to go to the hospital because of illness and asked her to wait and arrive as soon as he left the hospital. But Tatiana went to him and was by his side in the hospital for two weeks. He appreciated it very much and was very grateful to her that she was by his side in the hard times and backed him up.

So soon they got together and now are very happy.

Presented by Anastasia Affiliate " Tamara(Donetsk)"