I came to our agency by one of my friend's advice who had met her husband with the help of "Anastasia".
I brought my pictures and wrote a letter. I was getting many letters but the letter from Serge has engraved on my heart at once. I wrote the second letter and got response which has roused even more interest in me. In his third letter Serge wrote to me that he was coming to see me. I even couldn't believe that we could meet so quickly. I was planning to meet with Serge in Kiev but life had made its own corrections.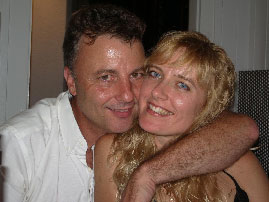 I couldn't come to Kiev and Serge came to me to Mariupol. I met him in the airport. When I saw his kind eyes, his open smile and his delightful look I understood that I needed this man. When we talked through an interpreter one evening we had found out some details and understood that we're very alike in our views, tastes and our aims and the main thing was that we could communicate without help. I understood that this person is congenial. My daughter got ill and Serge was helping me at that difficult time. When I saw how they play, draw, dance together I understood that this man can become my family. My daughter liked this person and this means that we can become a friendly family. I fell in love with Serge and he loved me. He stayed here just a week in April and when he was leaving it seemed to us that we knew each other ages and this meeting was a present from God both for me and for him. Serge told that he wanted me with Vika to come to see him, to see his country, the city, the house he lives in and took a decision for the main question if we would be together or not.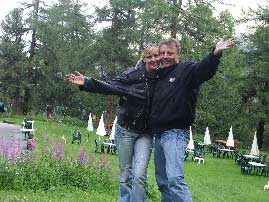 In the end of July I came to him to Switzerland though without my daughter so far. It was a fantastic month for us. I liked this country and understood that this man is a man of my dream, who has everything I wanted to see in a man. But the main thing is that we understood that we communicate and live on the same wave as they say, and we even have the same gastronomical tastes. Both of us like active rest and light on our feet. Serge wants us with daughter to visit him for Christmas and spend this holiday like a family. So that my daughter saw the house and chose a room for her and got acquainted with the country. After this visit we're planning to legalize our relations and to live in Serge's house like a friendly happy family.
Tatiana and Serge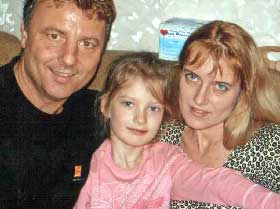 Presented by Anastasia Affiliate "Yliya"