Flowers Say It All
Send flowers and champagne today!
Are you looking for a way to brighten the day of your favorite lady? Do you want to say more than you can express in an e-mail? Flowers are the answer - they say what words cannot. You may be half a world away but a bouquet of fresh roses will let her know that she is on your mind and your intentions are serious.
Anastasiaweb has introduced a unique flower delivery service that is carried out directly by our affiliate agencies. Using our service, you can send 3 or more roses, a bottle of sparkling wine and a postcard to your lady and she will receive it within a matter days. It will be a wonderful surprise.
What's more, we will send you a picture of the lady with the flowers at the time of delivery. This means that you will be able to see the joy in her eyes when she receives your flowers!
To send flowers now, open the profile of the lady you want to send flowers to and click on "send flowers".* This brings you to the flower delivery page. Enter the number of roses you wish to send ($15 per rose) and check the box to deliver "Local Champagne" ($15), if you want to send a bottle of sparkling wine as well. There is also a delivery surcharge of $25 for each order.

The next step is to write a short note with warm words to your loved one. Your words will be printed on a card and delivered to the lady with the flowers.
Once payment is completed, we immediately begin to process your order. Within 3 -5 days, your lady will receive your order and we will send you a notification that the order has been fulfilled. You will be able to see a picture from the delivery by clicking on "delivery orders" after logging on to Anastasiaweb.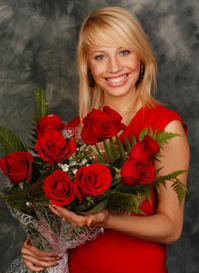 One small gesture today may make all the difference tomorrow!

* Please note, not all ladies have this option as their local agencies may not be capable carrying out delivery orders. If you are interested in sending flowers to a lady who does not have this option on AnastasiaWeb and you know the ladies address, you may visit our sister-site RussianBrides.com and place an order through the flower delivery service there.